A recent report by Royal London looked at the benefits of receiving financial advice. It found that advice could make you £47,000 better off on average, over ten years. It went on to look at the non-financial benefits of advice and found that advice could improve your emotional wellbeing too.
The three main areas of improvement were confidence, feeling more in control, and having peace of mind.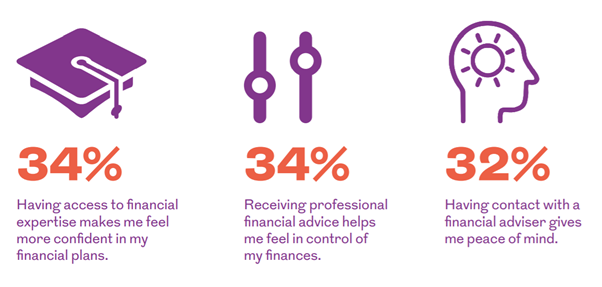 Source: Royal London
Here are three ways that financial advice could help improve your mental wellbeing, and how to make the most of the advice you receive.
One way in which financial advice can improve your emotional wellbeing, according to the report, is by giving you a feeling of greater control over your finances. One way to feel more in control is by putting products in place to protect your family.
This is especially important if you have dependants that rely on your income. You can protect yourself against an accident or illness that might prevent you from working. You can also put a plan in place to pay out on your death.
Income protection – If your monthly income goes toward a household mortgage or a child's school fees, for example, the loss of that income could have serious consequences.
Income protection will cover you if you are unable to work due to an accident or illness and will usually pay out until you start earning again.
Critical Illness cover – Critical Illness cover pays out a lump sum if you are diagnosed with certain conditions such as strokes, heart attacks, and some cancers. Other conditions might also be included, such as Parkinson's disease or Multiple Sclerosis.
You won't want to think about these possibilities, but putting Critical Illness cover in place can give you back a feeling of control.
Life Insurance – There are many different types of Life Insurance available. Some will only pay out if you die during a set term, while others are guaranteed to provide a lump sum whenever you die. Some have a fixed sum assured, while others might decrease the older you get. These variations mean that policy costs can vary massively too.
Speak to us and we can help find the right Life Insurance for you.
Not only does having protection in place enable you to regain control over your future, but you'll also have peace of mind that your family will be looked after.
According to the Royal London survey, 73% of advised customers with protection feel in control of their finances.
2. Save for your retirement
The survey asked, 'Would you know where to start with saving for your retirement.' Those who hadn't ever taken advice were three times more likely to answer 'No' than their advised counterparts.
Advice can help you improve your financial knowledge, giving you greater confidence in your financial plans. Together we can take a holistic view of your finances and put in place a retirement plan that works for you and enables you to meet your goals.
To live the lifestyle you want in retirement, you'll need to:
Start saving early – A good rule of thumb is to halve your age at the point you start making contributions and put that percentage of your salary aside. Starting early could mean contributing 15% at age 30, compared to a quarter of your income if you start at age 50. Speak to us and we can put a plan in place that works for you.
Maximise your contributions – Auto-enrolment has greatly increased the number of UK workers paying into a pension. FTAdviser states that a 'record 88% of eligible employees saved into a workplace pension in 2019.' That's more than 19 million people. Remember that you can contribute more than the minimum amount and some employees will even match what you pay.
Pay your future self first – Be sure to contribute to your pension each month and then budget with the remaining amount. Also, try to put 'extra' money aside – a bonus from work or the extra amount after a pay rise. Put it aside straight away and you won't get used to having it, and therefore won't miss it.
We can help you construct a plan with these factors at its core, to give you a plan that you can have confidence in.
3. Check-in regularly
As well as measuring emotional wellbeing between those who seek advice and those who don't, the Royal London report also looked at how regularly advice was received.
The report found that those who talk to their adviser regularly have higher levels of client satisfaction. Building a close relationship with us can help you to feel more in control of your finances, so get in touch today and book a review.
Financial stability can improve emotional wellbeing
Speaking to an adviser regularly, and building a relationship with them, can give you a greater sense of control, more confidence in your plans, and peace of mind that your loved ones will be looked after should the worst happen to you.
By improving your financial knowledge, you can gain greater financial stability, which in turn has been shown to have a positive impact on your emotional wellbeing.
Get in touch
Please get in touch if you have any questions about your current financial plans or you would like to book in for your regular review.