Who we are
Women in Finance Charter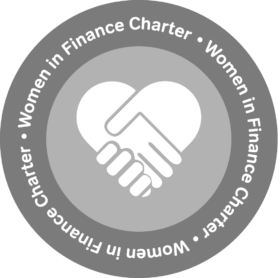 Charting old values and new territories
It's important to us to do what's right. In fact, it's one of our core values. So we're proud to be counted among the signatories of HM Treasury's 'Women in Finance Charter'. This is a commitment by HM Treasury and signatory firms to work together to build a more balanced and fair industry. Firms that sign up to the Women in Finance Charter are pledging to be the best businesses in the sector. And to create better gender balance at all levels.
So what does it actually mean?
Commit
We commit to supporting the progression of women into senior roles and focus on our executive pipeline and the mid-tier level.
Target
We set our own targets and implement what's right for us as an organisation.
Report
We will publicly report on our progress against these targets to support the transparency and accountability needed for change.
Our Women in Finance Charter Targets
We pledge to have 40% of women in senior management by January 2022. We also pledge to maintain or improve upon our current level of 40% women across the workforce. And by 2024, at least 40% of team members qualified to a level 4 Diploma in Financial Planning, will be women.
"I am so proud to be part of a team that celebrates women in leadership. And I pledge to do all I can to champion women in finance and inspire young women to follow finance as a career." – Joy Wisniewski, Head of Financial Planning
As part of our transparent approach, we'd love you to keep us accountable. So please check in and ask us how we're doing against our Women in Finance Charter pledges. So that together we can drive change.
Get in touch
Ready to take the next step towards your financial goals? Call or email your local office to book a free financial consultation. Better still, pop in and see us. And if you're short on time, just leave us a message here and we'll call you.
---