December 16, 2015 7:40 pm
US Fed raises interest rates by 0.25%
16 December 2015

From the section

Business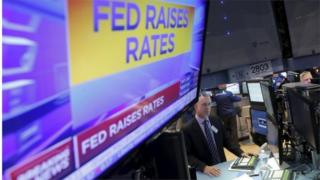 US Federal Reserve has raised interest rates by 0.25 percentage points, its first increase since 2006.
The move takes the range of rates banks offer to lend to each other overnight – the Federal Funds rate – to between 0.25% and 0.5%.
The US central bank also raised its projection for economic growth next year slightly, from 2.3% to 2.4%.
That suggests the bank does not think the rate increase will damage growth. US share markets jumped in response.
The Dow Jones went from a 50 point rise to stand up 79 points at 17,612.79, a 0.5% gain.
Rates in the US have been at near-zero since 2008.
When the Fed last raised rates
'Improvements'
The rate rise vote was unanimous.
The bank cited as the reasons for its action increased household spending and investment by business, along with a continued low rate of inflation.
In its statement, the committee said: "The committee judges that there has been considerable improvements in labor market conditions this year, and it is reasonably confident that inflation will rise, over the medium term, to its 2% objective."
The Fed has said it will continue to monitor inflation and employment to determine if and when further rise are justified.
The chairman of the Federal Reserve, Janet Yellen, said the committee is confident the economy will "continue to strengthen" but it still has "room for improvement".
Future action will depend on how the economy moves forward and will be gradual.
Ms Yellen acknowledged weakness remained in the labour market, particularly wage growth.
UK rate move
The UK business lobby group, the CBI, said the move was unlikely to mean swifter action from the Bank of England on interest rate levels in the UK.
Rain Newton-Smith, the CBI 's director of economics, said: "Alongside the US, the UK has been one of the best performing advanced economies in recent years, but the Bank of England probably still has a way to go before rising inflationary pressures at home persuade it to follow and up interest rates."
But the Institute of Directors' chief economist, James Sproule, said it would give the Bank of England room to act: "There will always be a thousand possible excuses not to raise rates, but… We are probably close to peak employment in the UK, with employment growth set to plateau next year. All these factors should encourage rate-setters in the UK to think seriously about raising rates in early 2016."
Categorised in:
This post was written by FSB News