April 3, 2016 1:52 pm
Lancashire's Santander cash machines targeted by criminals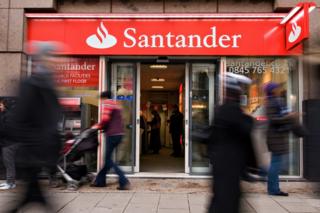 Bank customers are being urged to avoid Santander cash machines across Lancashire after a series of incidents which threatened security, police said.
Criminals have been targeting the machines and stealing customer card details and cash.
Santander Group is unable to deactivate the machines and is advising customers not to use them, Lancashire Police confirmed.
An investigation has been launched by the bank and police.
'No specific town'
Lancashire Police tweeted the security at Santander ATMs in Lancashire had been compromised.
Customers who have lost money or have seen anything suspicious are being asked to contact police on 101.
A police statement added: "We are still taking reports but a series of similar incidents last week occurred in all parts of the County. The advice therefore, is not limited to a specific area or town.
"It is not clear if machines beyond Lancashire have been targeted, so customers outside of Lancashire should contact Santander if they are concerned or see anything suspicious."
Categorised in:
This post was written by FSB News