April 1, 2016 8:46 am
North-South house price divide hits record high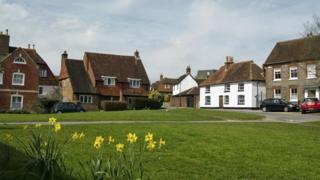 House prices in northern England are now less than half those in the south of the country, according to the Nationwide – a new record.
On average, a house in the North of England is worth nearly £163,000 less than one in the South.
In the first quarter of 2016, prices in the South rose by 9.9% year-on-year, compared to just 1.8% in the North.
Measured on a monthly basis, the average price of a home in the UK was £200,251.
That is the first time on the Nationwide measure that the price has risen above £200,000.
The building society also said that prices were picking up.
In the year to March, house price inflation across the UK hit 5.7% – up from 4.8% in February and the fastest rate for more than a year.
House price calculator
Use our calculator to see where you can afford to rent or buy
Categorised in:
This post was written by FSB News