March 6, 2017 2:21 pm
High heels petition to be debated by MPs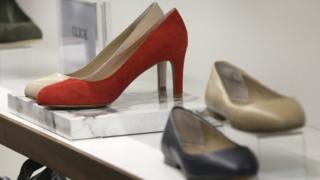 A petition calling for a ban on forcing women to wear high heels at work will be debated in the Commons later.
More than 152,000 people signed the petition set up by Nicola Thorp, from London, after she was sent home from her temp job when she refused to wear shoes with a "2in to 4in heel".
It led to an inquiry by MPs, who told the government to review the law after it heard from hundreds of women.
The government has said no employer should discriminate on gender grounds.
Work dress codes "must be reasonable", it said.
A petition is considered for a debate in Parliament if it reaches more than 100,000 signatures.
The petitions committee, which launched its investigation in June last year, called on the government to review the law and to ask Parliament to change it if necessary, to make it more effective.
It also recommended that the government "substantially increases" the penalties available to employment tribunals to award against employers, including the financial penalties.
It said such penalties were not a "sufficient deterrent" to breaking the law.
The committee published its findings in a report in January, which said: "The petition was started because of an individual's experience, but it has become clear in the course of our inquiry that this was not an isolated incident – and nor is the problem confined to high heels.
"We heard from hundreds of women who told us about the pain and long-term damage caused by wearing high heels for long periods in the workplace, as well as from women who had been required to dye their hair blonde, to wear revealing outfits and to constantly reapply make-up."
It said discriminatory dress codes were "widespread" and the the existing law was "not yet fully effective in protecting employees from discrimination at work".
The government has previously said: "No employer should discriminate against their workers on grounds of gender.
"We expect employers to act in accordance with the law, which is clear that dress codes enforced by employers must be reasonable and include equivalent requirements for both men and women.
"We welcome the opportunity to debate this issue, which is clearly of importance to a large number of people."
The debate begins in the Commons' secondary chamber, Westminster Hall, at 16:30 GMT.
Categorised in:
This post was written by FSB News