June 23, 2016 10:14 pm
FTSE 100 hits two-month high on Remain hopes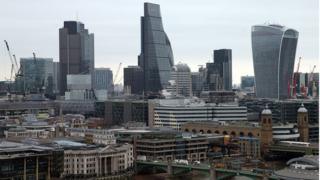 The FTSE 100 hit a two-month high and the pound surged as investors bet on the UK voting to remain in the European Union.
London's blue-chip shares rose 1.2% to 6,338.1 points, with miners, banks and travel firms rising.
Sterling almost hit $1.50 after Leave campaigner Nigel Farage said it looked as though Remain had "edged" the vote.
Wall Street also jumped in late trading, with the Dow Jones and S&P 500 both closing 1.3% higher.
That was the best result for New York shares in a month, with the main measure of "fear" – the VIX volatility index – falling 18.5%, the biggest slide in six months.
'Dramatic' swings
Peter Cardillo, at First Standard Financial in New York, said: "The markets are the best judge of what is going to happen, and they are saying that Britain will remain. The key is the strong jump in the pound."
Chris Saint, senior analyst at HL Currency, said: "The key issue now for currency markets is whether rising expectations that the status quo will prevail are well-placed. Dramatic exchange rate swings are to be expected regardless of the result, with a sharp drop in the pound's value possible in the event of a Brexit."
European markets earlier added to the optimism, with the Dax in Frankfurt and the Cac 40 in Paris rising 1.8% and 2% respectively.
Brent crude rose sharply in late trading to end the day 2.1%, or $1.03, higher at $50.91 a barrel, while US crude added 98 cents to $50.11.
Higher oil prices bolstered shares in Shell, which closed up 3.1% in London, while BP was almost 1% higher.
Gold, regarded as a safe haven, fell 0.6% to a two-week low of $1,258.86 an ounce.
Thursday winners
The biggest riser on the London market was British Airways owner IAG, whose shares rose 3.6% to 528p as traders expected aviation to be helped by a remain vote.
London Stock Exchange Group ended 3% higher as its £21bn merger with Deutsche Borse looked more certain of going ahead.
Saxo Bank's head of FX strategy, John Hardy, said: "Everybody is a bit shell-shocked at the way the market has moved so aggressively (toward the UK remaining in the EU).
"If you are stuck with a short position, you are being forced out without even knowing the result, but what this also means is that a Brexit result is now a catastrophic risk."
Categorised in:
This post was written by FSB News