June 15, 2016 5:33 am
EU referendum: Osborne warns of Brexit budget cuts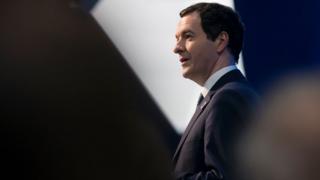 George Osborne says he will have to slash public spending and increase taxes in an emergency Budget to tackle a £30bn "black hole" if the UK votes to leave the European Union.
The chancellor will say this could include raising income and inheritance taxes and cutting the NHS budget.
But a leading Brexit-backing Tory said he was "shocked" the government was threatening to break manifesto pledges.
And Vote Leave criticised Remain's "hysterical prophecies of doom".
The UK votes on whether to remain in the EU or to leave on 23 June.
In other referendum news:
Vote Leave set out a roadmap of what the government should do in the aftermath of a vote to leave the EU
The CBI said business groups from countries including Norway, Switzerland and Canada had outlined the "serious shortcomings" in their alternative relationships with the EU
Former health secretary Stephen Dorrell will say a vote to leave would undermine the NHS's finances
Scotland's First Minister Nicola Sturgeon warned that the UK voting to leave the European Union could present the risk of a "right-wing Tory takeover".
A pro-Brexit flotilla, organised by the Fishing for Leave group, will sail up the Thames
In the latest of a series of government warnings about the consequences of a vote to leave, Mr Osborne will share a stage with his Labour predecessor, Lord Darling, setting out £30bn of "illustrative" tax rises and spending cuts.
These include a 2p rise in the basic rate of income tax and a 3p rise in the higher rate, while they will also say spending on the police, transport and local government could take a 5% cut.
They will also say the ring-fenced NHS budget could be "slashed", along with education, defence and policing.
Mr Osborne and Lord Darling will say the measures – £15bn of tax rises and £15bn of cuts – are based on the Institute for Fiscal Studies' predictions about the economic impact of a vote to leave from lower trade, investment, and tax receipts.
The IFS has said such an outcome could trigger between an extra one to two years of austerity measures.
Writing in The Times ahead of their speech, Mr Osborne and Lord Darling say that leaving the EU would lead to a "profound economic shock that would hit the economy and could tip Britain back into recession".
"We know all too well what happens when Britain loses control of its public finances," they wrote.
"We're agreed that a vote to leave risks doing the same thing to Britain all over again."
Warning of a "lose-lose" situation, Mr Osborne will say: "As chancellor, I would have a responsibility to try to restore stability to the public finances and that would mean an emergency Budget where we would have to increase taxes and cut spending."
Lord Darling will say he is "more worried" than he was when the financial crisis hit in 2008.
'Prophecies of doom'
The Conservative government last year introduced legislation not to raise income tax rates, VAT or National Insurance for the duration of the Parliament.
Leave campaigners dismissed the warning from Mr Osborne.
Conservative MP and Vote Leave campaigner Steve Baker said: "I am shocked that the chancellor is threatening to break so many key manifesto pledges on which all Conservative MPs were elected.
"I could not support these plans to cut the NHS and increase taxes on hardworking families."
Mr Baker said leaving the EU would allow the UK to "take back control" of millions sent to the EU and reinvest in the NHS.
He accused the Remain campaign of panicking, adding that "no one will believe these hysterical prophecies of doom anymore".
And a senior Conservative told the BBC it was "laughable" to think Mr Osborne would still be chancellor if the UK voted to leave, adding: "He'll be carried away by the men in white coats before he gets the chance to make these ludicrous proposals."
Categorised in:
This post was written by FSB News