March 29, 2016 6:03 pm
Yellen: Fed should 'proceed cautiously' with rate rises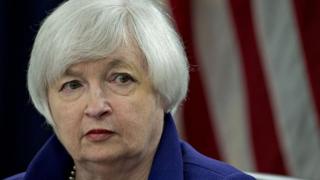 US Federal Reserve chair Janet Yellen said the Fed should "proceed cautiously" before raising interest rates.
She said global risks were not expected to have a deep impact on the US, but caution was still appropriate.
Global developments and risks had led policymakers to project a slower path of rate rises than initially expected in December, Ms Yellen said.
US markets rose during her speech at the Economic Club of New York.
Her tone was similar to the Fed's statement in mid-March, when the central bank made no change to rates and guided expectations towards a slower pace of increases after December's increase.
The Fed has said it will depend on economic data for a decision on rates, but several policymakers have voiced support for more than one increase this year.
However, Ms Yellen said volatile oil prices and China's slowing growth, coupled with how soon domestic inflation would reach the Fed's 2% goal, were key factors guiding the Fed towards taking a gradual approach on raising rates.
Omer Esiner, chief market analyst at Commonwealth Foreign Exchange, said: "On balance, [Yellen's] comments do not sound consistent with a looming rate hike in April and leave considerable doubt about whether rates will rise in June.
"Given that her tone contrasts what we heard from various Fed speakers last week, Ms Yellen's comments are likely to prove, once again, frustrating for dollar bulls."
Following Ms Yellen's speech, Wall Street climbed sharply. The Dow Jones Industrial Average added 77 points to 17,612, the S&P 500 rose 9 points to 2,047, and the Nasdaq climbed 48 points to 4,815.
Categorised in:
This post was written by FSB News