March 28, 2016 7:49 pm
Wall Street rises on consumer spending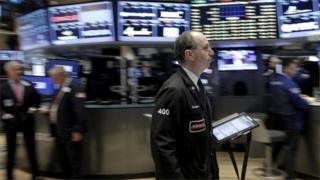 (Open): Wall Street rose slightly on Monday, as a report showed a slight increase in consumer spending in February.
In morning trading the Dow Jones was up 21 points to 17,537.
The S&P 500 gained 0.64 points to 2,036.5, while the technology-based Nasdaq index fell 4.4 points to 4,769.
The Commerce Department reported on Monday that consumer spending, which makes up two-thirds of the US economy, rose 0.1% in February.
On Friday, the Commerce Department revised its estimates of US economic growth in the fourth quarter to 1.4% – up from 1.1%.
Starwood shares rose 2.5% after Anbang increased its offer for the hotel chain to $14bn.
Videogame seller GameStop fell 2.4% after it projected a drop in store sales for the first quarter.
Categorised in:
This post was written by FSB News