December 7, 2016 10:45 pm
Wall Street: Dow Jones and S&P 500 hit fresh records
7 December 2016

From the section

Business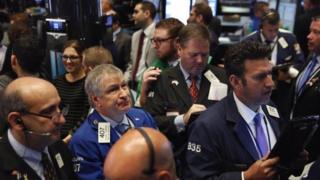 The onward march of Wall Street's share markets has continued, with the Dow Jones and S&P 500 hitting fresh highs.
The three major indexes finished more than 1% up, driven by expectations that a Donald Trump presidency will cut taxes and stimulate the economy.
The Dow Jones added 1.55% to 19,549.6 and the S&P 500 rose 1.32% to 2,241.3. The Nasdaq gained 1.1% to 5,393.7.
"Visions of tax cuts and stronger economic growth are dancing in traders' heads," said US analyst Patrick O'Hare.
The small-cap Russell 2000 index also set a record, gaining 0.9% to 1,364.51.
Since the 8 November election, the Dow has risen more than 5%, the S&P 500 3.5%, and the Nasdaq almost 3%.
Telecommunications, property and transportation shares gained on Wednesday. However, healthcare was a big loser after Trump said he wanted to bring down prescription prices.
Pfizer fell more than 1% and Celgene lost 4%.
Wendy's rose 4.6% after activist investor Nelson Peltz raised his stake in the burger chain to 23.45%.
Boeing gained 1.3% as it pledged to control costs on the redesign of Air Force One after Trump criticised the aerospace giant for what he said were ballooning expenses.
"I think it is a new fact of life… that fundamentals can be swept aside any day by comments from the [president-elect]," said David Donabedian, chief investment officer of Atlantic Trust Private Wealth Management.
Starbucks climbed 2.3% as it announced plans to add 12,000 outlets globally by 2021. It also said it was working on technology to permit customers to order via an artificial intelligence program.
Potential bets
Industrial and financial stocks continued to make gains, with American Express, Caterpillar and 3M all advancing more than 2%, as did Home Depot, IBM, Microsoft and Nike.
About 8.2 billion shares changed hands on US exchanges, above the 8 billion daily average over the last 20 sessions.
"Right now people are making bets based on potential and whether that potential becomes real, we're not going to know for another six plus months," said Michael James, managing director of equity trading at Wedbush Securities.
But James said shares were also being propelled by the desire of some institutional investors to boost trading positions before the end of the calendar year.
Categorised in:
This post was written by FSB News