December 2, 2016 2:11 pm
US unemployment rate falls to nine-year low
2 December 2016

From the section

Business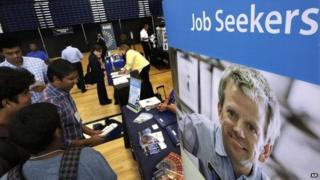 The US unemployment rate fell to a nine-year low in November, adding to expectations that US interest rates will rise later this month.
Figures from the Labor Department showed the US economy created 178,000 jobs in November, while the jobless rate fell to 4.6% from 4.9% in October.
Recent figures indicated that the US economy grew at an annual pace of 3.2% in the third quarter of the year.
Most analysts think the Federal Reserve will raise rates at its next meeting.
"This was the last hurdle on the path to a December hike, and it has been cleared convincingly," said Luke Bartholomew, investment manager at Aberdeen Asset Management.
"It is now incredibly hard to imagine what would stop the Fed from going [for a rate rise]."
The Federal Reserve will hold its next two-day policy meeting on 13-14 December.
Last month, the chair of the Fed, Janet Yellen, indicated that the US central bank could raise interest rates "relatively soon", adding that the US economy was "making very good progress".
Despite the strong jobs figures, earnings grew by less than expected. Average hourly earnings fell 0.1% from the month before, and that reduced the annual increase in wages to 2.5% from 2.8% in October.
The job creation figures for September and October were also revised, with the latest estimates indicating that 2,000 fewer jobs were added in the two months than previously thought.
Categorised in:
This post was written by FSB News