December 14, 2016 7:30 pm
US raises key interest rate by 0.25% on strengthening economy
14 December 2016

From the section

Business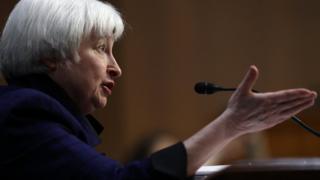 The US Federal Reserve has raised its key interest rate by 0.25%, only the second increase in a decade.
The Fed voted unanimously to increase the rate to a range of 0.5% to 0.75%, but in a statement repeated that it expects the economy will need only "gradual" increases in the future.
The move had been widely expected, and follows the last increase a year ago.
Investors will now turn their attention to an imminent press conference to be given by Fed chairwoman Janet Yellen.
They will be looking for new forecasts and clues on policymakers' thinking about how President-elect Donald Trump's policies will affect growth and inflation.
The Fed linked its decision to raise rates to the continued moderate growth of the US economy and more buoyant jobs market.
Although inflation is still below the Fed's 2% target, it expects the rise in prices to pick up gradually over the medium term.
"The Committee expects that economic conditions will evolve in a manner that will warrant only gradual increases in the federal funds rate," the Fed statement said.
It added: "The federal funds rate is likely to remain, for some time, below levels that are expected to prevail in the longer run."
The dollar rose 0.5% against the euro to €0.9455, and was 0.9% higher against the yen at 116.17 yen. Wall Street was largely unmoved, with the Dow Jones and S&P 500 slightly down.
Categorised in:
This post was written by FSB News