June 15, 2016 10:05 am
UK unemployment falls to 1.67 million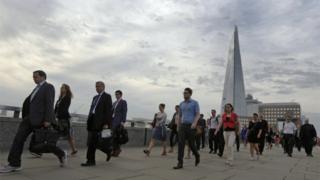 UK unemployment fell to 1.67 million in the February-to-April period, down 20,000 from the previous quarter, official figures show.
The fall took the unemployment rate to 5%, the lowest rate since October 2005, said the Office for National Statistics (ONS).
The number of people in work rose by 55,000, with the employment rate remaining at a record high of 74.2%.
Earnings, excluding bonuses, rose by 2.3% compared with last year.
The rise was bigger than analysts had expected, and pay growth in April itself was 2.5%, which the ONS said was partly due to the introduction of the National Living Wage.
The introduction of the new, compulsory National Living Wage of £7.20 an hour for workers aged 25 and above affected 1.8 million workers.
Earnings including bonuses were 2% higher from year earlier, the ONS said.
The number of people on the claimant count fell by just 400 in May to 746,100, although April's figure was revised higher by 6,400 as information about those claiming out-of-work benefit under the new system of Universal Credit came in.
Categorised in:
This post was written by FSB News