December 9, 2016 10:21 am
UK trade deficit narrows in October
9 December 2016

From the section

Business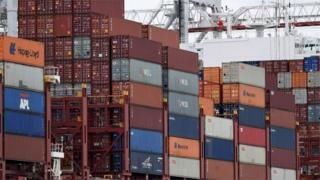 The UK trade deficit in goods and services narrowed to £2bn in October as exports rose, official figures show.
Exports increased by £2bn, lifted by machinery and transport orders, while imports decreased by £1.8bn, the Office for National Statistics (ONS) said.
The ONS also made large revisions to trade figures for the period between January 2015 and September 2016.
It said it had made an error in the way it had recorded trade in gold.
Scott Bowman, economist at Capital Economics, said: "While the monthly data are extremely volatile, the narrowing in the trade deficit in October sets a solid base for trade in the fourth quarter.
"What's more, trade should be further supported in the coming months by the fall in sterling seen since the EU referendum, which should improve exporters' competitiveness and encourage domestic production at the expense of imports."
The pound has fallen sharply since the UK's vote to leave the EU. Against a basket of currencies, sterling was 5.1% lower in October on average than in the previous month and 18.5% lower than a year earlier, the ONS said.
Exports to the EU rose by £0.2bn last month, led by sales in the Republic of Ireland and the Netherlands.
Categorised in:
This post was written by FSB News