December 2, 2016 7:26 am
Train fares to rise by average of 2.3%
2 December 2016

From the section

Business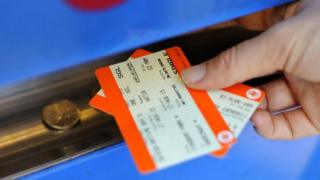 Train fares in Britain will go up by an average of 2.3% from 2 January, the rail industry has announced.
The Rail Delivery Group, which represents train operators and Network Rail, said the industry was working to simplify fares and improve services.
The increase in regulated fares, which includes season tickets, is capped at July's RPI inflation rate of 1.9%.
Unregulated fares, such as off-peak leisure tickets, can go up by as much as the train companies like.
"We understand how passengers feel when fares go up, and we know that in some places they haven't always got the service they pay for," said Paul Plummer, chief executive of the Rail Delivery Group.
"Around 97p in every pound passengers pay goes back into running and improving services."
The increases cover fares in England, Scotland and Wales. Northern Ireland is treated separately.
Categorised in:
This post was written by FSB News