April 3, 2016 11:04 am
Tesla Model 3 electric car orders accelerate to 250,000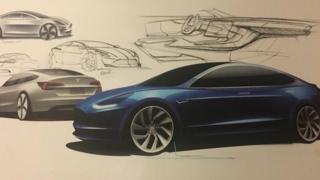 Tesla founder and chief executive Elon Musk says pre-orders of the firm's much-anticipated Model 3 electric car have passed the 250,000 mark.
The California-based firm unveiled the five-seater car – its lowest-cost vehicle to date – on Thursday.
Mr Musk tweeted he would give further updates on Sunday and Wednesday.
Pre-orders of the Model 3 will not necessarily all translate into actual sales when the car is released, with first deliveries in late 2017.
It can be ordered in advance in dozens of countries, including the UK, Republic of Ireland, Brazil, India, China and New Zealand.
Research spend
Mr Musk has said his goal is to produce about 500,000 vehicles a year once production is at full capacity.
The basic model will start at $35,000 (£24,423) and have a range of at least 215 miles (346km) per charge.
Tesla delivered 50,580 vehicles last year. Most of those were its Model S saloon, which overtook Nissan's Leaf to become the world's best selling pure-electric vehicle.
But the firm still posted a net loss of $889m (£620m) for 2015, partly because it spent $718m on research and development over the period.
It left Tesla with cash reserves of $1.2bn, down from $1.9bn a year earlier.
Categorised in:
This post was written by FSB News