June 13, 2016 11:20 am
Sterling falls as investors fret about Brexit risks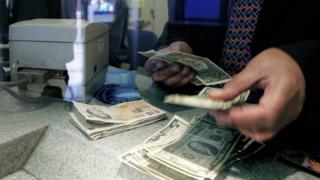 Sterling has fallen against the dollar and yen on growing uncertainty over the outcome of the UK's EU referendum.
The one month "volatility index" – a measure of investors' uncertainty – has hit levels close to its 2008 financial crisis peak.
Investors have been spooked by latest polling and betting odds showing the chances of a Remain vote have fallen.
But the Leave campaign argues that the pound has simply just retreated to levels last seen in March.
Investors are choosing to put their money instead into the dollar – and the yen – with the pound falling to a three year low against the Japanese currency – considered a haven in times of uncertainty.
On Monday, sterling was at an eight-week low against the dollar.
Categorised in:
This post was written by FSB News