December 1, 2016 10:30 pm
Starbucks boss Howard Schultz to step down
1 December 2016

From the section

Business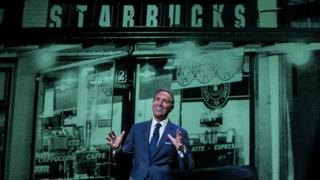 The chief executive of the Starbucks coffee chain, Howard Schultz, will step down from his post next year.
Mr Schultz will become executive chairman and will change his focus to growing new Starbucks luxury brands.
He will be replaced by the current number two, Kevin Johnson, who has been on the board for seven years.
Mr Schultz, who has been at the company for 30 years, drove much of its expansion, with the firm reporting record profits last month.
"Starbucks consistently outperforms the retail industry because our stores, our offerings and the experiences our partners create make us a destination," Mr Schultz said in a statement.
The 63-year old said that the firm was "ideally positioned" to continue its growth with Mr Johnson at the helm.
However, in its last set of earnings the company said it faced "ongoing economic, consumer and geopolitical headwinds". Mr Schulz has complained that the popularity of online shopping is keeping people at home and away from main shopping streets or malls.
He is now set to work on the innovation, design and development of the more high-end Starbucks Reserve Roasteries around the world, as well as the company's social impact initiatives.
Starbucks operates 25,085 stores in 75 countries worldwide,
Categorised in:
This post was written by FSB News