December 6, 2016 4:03 am
South Korean firms face rare corruption hearing
6 December 2016

From the section

Asia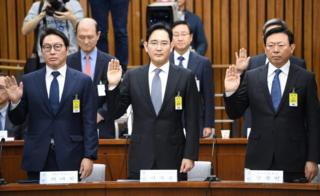 South Korean lawmakers are questioning leaders of the country's biggest businesses in a rare televised hearing as part of a massive corruption probe.
Samsung, Hyundai Motor and six other firms face accusations they gave millions of dollars to funds linked to President Park Geun-hye in exchange for favours.
Ms Park faces impeachment proceedings in relation to the scandal.
Huge protests have been held in recent weeks demanding her resignation.
The executives are being questioned by a cross-party committee of lawmakers.
The conglomerates all gave large donations to non-profit foundations operated by Choi Soon-sil, a close confidante of Ms Park.
Ms Choi has been charged with coercion and attempted fraud.
Prosecutors have alleged that the businesses gave the donations in exchange for political favours, and have conducted several raids on them and related government entities.
They have also alleged that Ms Park had a "considerable" role in the scandal, which she has denied.
---
'Impertinent questions': Stephen Evans, BBC News, Seoul
These are men who never appear in public if they can help it. They normally live in an enclave of power and wealth, hidden behind the shaded glass of chauffeur-driven black cars.
But they filed in, each in their corporate uniform of a dark suit. They raised their right hand and promised to tell the truth. And then they were subject to what they are not used to: hard questions some might deem impertinent.
The hearing has the air of a spectacle because press photographers have been allowed to stay and they constantly fire off loud barrages of clicks and they crane towards the business titans from ladders.
The head of Samsung, Lee Jae-yong seemed discomfited by questioning. His eyes moistened when his bed-ridden father was mentioned. And he gulped when asked how much inheritance tax he had paid. He didn't know, he said.
He did defend donations to funds controlled by a friend of the president, saying his company often gave money to what seemed like a good cause.
---
Over the weekend tens of thousands of protestors staged the latest in a series of demonstrations in Seoul calling for Ms Park to leave office.
Ms Park has apologised multiple times to the public for allowing Ms Choi inappropriate access to government decisions, but has stopped short of resigning.
Last week she said she would leave it up to parliament to decide whether to remove her from office.
Categorised in:
This post was written by FSB News