June 14, 2016 4:41 am
Shares in US gun companies up after Orlando mass shooting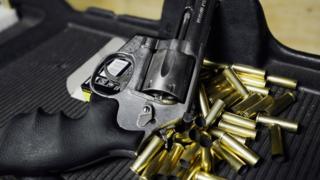 Shares in US gun companies rose on Monday following Sunday's attack on the Pulse gay nightclub in Orlando, in which 49 people were killed.
Smith & Wesson shares closed up 6.9% while competitor Sturm, Ruger and Company saw its shares finish up 8.5%.
Shares in US firearm manufacturers typically rise after a mass shooting.
Investors predict that buyers will worry about tougher gun laws being introduced and therefore gun sales will increase.
Sunday's attack, carried out by 29-year-old gunman Omar Mateen who was also killed, was the deadliest mass shooting in modern US history.
According to the Bureau of Alcohol, Tobacco and Firearms in the US, Mateen bought a 9mm semiautomatic handgun and a .223 caliber AR rifle in Florida, within the last 10 days legally under state and federal laws.
At the beginning of the year, sales of guns in the US rose as President Barack Obama unveiled control measures designed to limit the availability of weapons.
The right to bear arms in the US is enshrined in the country's constitution.
Categorised in:
This post was written by FSB News