June 21, 2016 12:08 am
ScotRail and Southern strikes prompt disruption warning
21 June 2016

From the section

England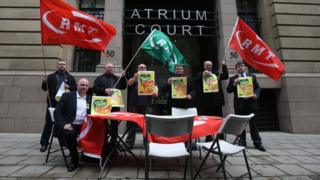 Railway passengers have been warned to expect delays, disruption and cancellations as separate 24-hour strikes begin on Southern and ScotRail.
The RMT called for the action in protest at more driver-only trains and a change in the role of conductors.
Hundreds of services across Scotland and south-east England were due to be cancelled.
ScotRail said other trains would be busier than normal while Southern issued a revised limited timetable.
Both companies said the action was needless.
But RMT members believe the rail operators intend to remove guards from trains completely, a move it claims would be "catastrophic for safety".
The strikes follow earlier stoppages on Southern and the breakdown of talks at conciliation service Acas between ScotRail and the RMT union.
Lines closed
Both companies issued maps indicating which services would be cancelled.
Southern plans no trains between:
Horsham – Dorking, Redhill – Tonbridge, Oxted – Uckfield
Haywards Heath – Seaford, Chichester – Havant and Eastbourne – Ashford
ScotRail cancelled trains on 15 routes and warned replacement buses were "most unlikely" between:
Edinburgh – North Berwick/Dunbar, Edinburgh – Aberdeen
Glasgow Queen St – Stirling/Dunblane/Alloa/Dundee/Carnoustie/Arbroath
Stranraer/Girvan – Ayr/Kilmarnock/Glasgow Central, Anniesland – Falkirk Grahamston
Glasgow Central – Inverness, Glasgow Central – Edinburgh via Shotts, Glasgow Central – Barrhead/Kilmarnock/Dumfries/Carlisle
Inverness – Elgin, and Inverness – Tain
'Put passengers first'
Southern operator Govia Thameslink (GTR) said the strikes were "completely unnecessary" and called on RMT members to "think again and put passengers first".
"We apologise to our passengers for the disruption this will inevitably cause.
"A restricted service will once again be in operation, with many routes having a reduced service, and on some routes there will be no train service at all."
GTR warned some last connecting trains would leave London "as early as 16:30".
Analysis by Richard Westcott, BBC transport correspondent
Two hugely disruptive strikes, two different train companies, same issue.
The unions want to draw a line in the sand over something called Driver-only-operation (DOO), where the driver is asked to close the doors at stations, instead of the on-board conductor.
Drivers have CCTV in the cabs to check people are clear of the doors, but the unions say it is still not safe and passengers will get hurt.
They are also worried it is a Trojan horse policy to phase out train conductors in future, to save money and cut staff. The companies say they will keep the conductors on board, they will just be helping passengers instead.
We have had DOO trains on Britain's railways for decades. The regulator (ORR) says it is happy they are safe and so does the Rail Safety and Standards Board but the unions do not want any more.
It is ScotRail and Southern this time around but this issue could flare up on any number of different lines in future.
People are talking about a "war" on the trains, between the unions on one side, the companies and the government on the other.
Neither side wants to budge, and passengers are stuck in the middle.
The RMT union said Southern's performance figures were at an "all time low".
General secretary Mick Cash said: "Govia has chosen to declare war on its passengers and staff alike."
"We are sick and tired of them trying to lump the blame for their mismanagement and profiteering on the front line staff while top managers are giving themselves multimillion-pound pay and bonus packages for destroying services, wrecking safety and axing jobs."
ScotRail managing director Phil Vertser said the RMT had "refused point blank to talk to us about how we modernise and improve Scotland's railway".
He added: "Instead they have hidden behind a national policy that says that nothing must ever change.
"Tens of thousands of our customers will be disrupted and hundreds of our own people will be hit financially as a result of their intransigence."
Categorised in:
This post was written by FSB News