March 29, 2016 6:13 am
Samsung becomes latest firm to launch mobile wallet in China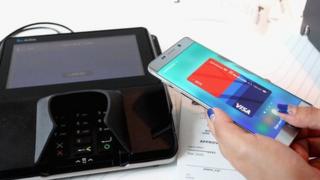 Samsung has officially launched its mobile wallet service in China, in cooperation with local vendor UnionPay.
Instead of using cards the service allowed shoppers to use their smartphones to pay for in-store purchases.
Last month Apple launched its own Apple Pay system in China, also in partnership with UnionPay.
China's smartphone market, the largest in the world, presents a huge business opportunity for mobile-payment systems.
Samsung Pay and Apple Pay will now compete with Alibaba's Alipay, which currently dominates China's electronic payments market.
Tencent's WeChat also has a payment system which is popular and telecommunications giant Huawei launched its own service earlier this month.
Read more: Samsung Pay and how it works
The South Korean electronics giant said Samsung Pay was now available in China on a range of smartphones including the Samsung Galaxy S7, Galaxy S7 edge, Galaxy S6 edge+ and Galaxy Note5.
The firm said it would have "the opportunity to support additional mid-range models in the future".
In announcing its official launch, which has been expected since late last year, Samsung said that Samsung Pay currently supports select credit and debit cards of nine major banks in China including China CITIC Bank, China Construction Bank and China Everbright Bank.
Samsung has previously said it has one critical fact that will work in its favour: its technology works with a much larger number of existing payment terminals.
Unlike Google Wallet and several other earlier payment apps, there's no need to unlock the phone and launch a special app to get started, the firm said.
Samsung Pay is currently available in South Korea and the US. It is expected to become available in the UK this year.
Categorised in:
This post was written by FSB News