April 3, 2016 4:57 am
Steel crisis: Public sector urged to buy British
3 April 2016

From the section

UK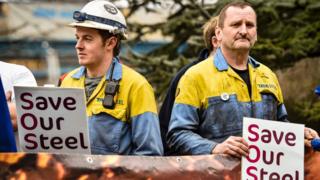 Public sector bodies are to be encouraged to buy British steel for construction projects in an effort to help save the industry.
The government said councils and NHS trusts will be asked to consider the economic impact of buying from abroad.
It comes after Tata Steel announced it was selling its loss-making UK plants, putting thousands of jobs at risk.
The unions said it was "a small step in the right direction" but the measure should have been in place already.
Guidelines were introduced last year requiring central government bodies to take into account the "true value" of British steel.
Now the guidance is to be extended across the public sector and public procurements involving the supply of steel will need to consider "responsible sourcing, the training suppliers give to their workforce, carbon footprint, protecting the health and safety of staff and the social integration of disadvantaged workers".
Contractors working for the public sector will also be required to advertise their requirements for steel so that UK firms can compete for the business.
It comes after heavy criticism of ministers for failing to take more effective action to prevent the "dumping" of cheap Chinese steel, seen as one of the key reasons for the problems in the UK steel industry.
The government has played down the impact of new Chinese import tariffs of up to 46.3%.
---
Analysis
What's going wrong with Britain's steel industry?
Tata Steel UK: What are the options?
Is China to blame for steel woes?
---
Business Secretary Sajid Javid said: "By changing the procurement rules on these major infrastructure projects, we are backing the future of UK steel – opening up significant opportunities for UK suppliers and allowing them to compete more effectively with international companies."
Roy Rickhuss, general secretary of the Community trade union, said the announcement was "a small step in the right direction" but said steelworkers "will be shocked to discover that these measures were not already in place".
"These are bread-and-butter policies that should have been providing opportunities to UK steel producers already," he said.
Tony Burke, assistant general secretary of the Unite union, said the measure needed to compel British steel to be used in all infrastructure projects "otherwise, there will be no recognisable steel industry left in the UK to benefit".
Shadow business secretary Angela Eagle said while the announcement was welcome, ministers had to do more if they were to ensure the survival of the steel industry in the UK.
"The government has been dragged kicking and screaming to take action to support the steel industry, which is a vital foundation industry and has descended further into crisis on their watch," she said.
Potential buyer
The move came as a possible buyer emerged for the Port Talbot steelworks in South Wales, where thousands of jobs are at stake.
Steel tycoon Sanjeev Gupta, founder of the commodities firm Liberty House, said he had already opened discussions with Tata Steel and was ready to hold talks with the government.
"We would need a proper partnership with the government. I don't know what that would entail at this stage. We've started the discussions … we are in the process of starting a discussion with Tata," he told The Sunday Telegraph.
"I haven't made a proposition that I want to buy all of [Tata Steel UK] because that's too big an undertaking to even put on the table at this stage," he added.
"If the company, its people, its workers and the government would be willing to consider my suggestions then I'm willing to engage in a discussion about what role we will play in that."
Tata's UK business – which directly employs 15,000 workers and supports thousands of others – includes plants in Port Talbot, Rotherham, Corby and Shotton.
Steel production makes up 1% of Britain's manufacturing output and 0.1% of the country's economic output.
Categorised in:
This post was written by FSB News