April 2, 2016 12:46 am
Tata Steel: David Cameron raises concerns with Xi Jinping
2 April 2016

From the section

UK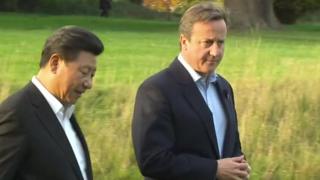 David Cameron has raised his concerns about the steel crisis with Chinese President Xi Jinping, Downing Street has confirmed.
During a dinner at the White House on Thursday, Mr Cameron said they needed to work together to tackle over-capacity, his spokeswoman said.
China "dumping" cheap steel on overseas markets is being partly blamed for the problems facing the UK steel industry.
The PM has said every effort is being made to save thousands of steel jobs.
But he also warned there were "no guarantees of success". He said nationalisation was "not the right answer" after Tata Steel's decision to sell its UK business.
Unions and opposition parties say the government is in "chaos", and want action to save the threatened plants.
Britain's steel industry: What's going wrong?
Tata Steel UK: What are the options?
The prime minister's spokeswoman said Mr Cameron "raised concerns about the global steel industry" with President Xi, saying the two countries "needed to work together to tackle the challenges with over-capacity" and that the G20 in China in September could be a good forum to address it.
Both the government and the unions are blaming cheap Chinese imports for causing problems in the UK.
In 2013 the UK produced 13 million tonnes of steel while China produced 779 million tonnes.
Chinese exports have also soared. In 2003 the country exported 7.2 million tonnes rising to 107 million tonnes in 2015.
The country has been accused of dumping due to selling steel very cheaply and regularly at a loss.
Executives have been warning for months that the flood of steel is placing unsustainable pressure on the industry.
The US has imposed tariffs of 266% on Chinese steel but it has emerged Britain blocked efforts at EU level to impose similarly high emergency tariffs.
BBC political correspondent Alex Forsythe said: "The accusation is the government failed to act when it could because it opposed an EU plan that would have allowed higher tariffs on cheap imports from China so critics say the government has prioritised its trade relations with China over the UK steel industry," she said.
Ministers refute that, saying they opposed the wholesale changes because they could have affected industries other than steel and did impose higher tariffs on some specific Chinese products such as reinforced steel.
Categorised in:
This post was written by FSB News