December 17, 2015 12:50 pm
Pharma boss Martin Shkreli arrested on fraud charges
17 December 2015

From the section

Business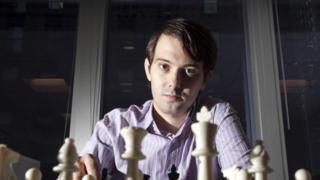 Pharmaceutical boss Martin Shkreli, who sparked outrage after hiking up the price of an established medicine, has been arrested on separate fraud charges.
He is accused of fraud relating to a drug company he previously headed, Retrophin, and a hedge fund, MSNB Capital Management, where he was a fund manager.
He is currently chief executive of Turing Pharmaceuticals.
Mr Shkreli was arrested by the FBI.
He was arrested in New York, accused of illegally using Retrophin assets to pay off debts after MSMB lost millions of dollars, reports Reuters news agency.
In September he was lambasted after hiking up the price of popular AIDS and parasitic infection medicine, Daraprim by 5,000%, prompting presidential candidate Hilary Clinton to vow to tackle the problem of price gouging by pharmaceutical companies.
Analysts said that the issue had since led to volatility in pharma shares.
In November, Mr Skhreli was also made chief executive of KaloBios Pharmaceuticals.
Categorised in:
This post was written by FSB News