March 6, 2017 7:31 am
Peugeot-Citroen agrees deal with GM to buy Vauxhall-Opel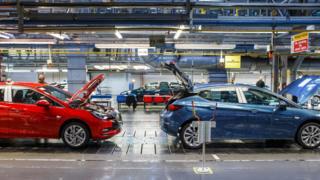 The French company that owns Peugeot and Citroen has struck a 2.2bn euro (£1.9bn) deal to buy General Motors' European unit, including Vauxhall.
PSA Group and GM announced the sale ahead of a press conference in Paris.
The deal has raised fears of job losses at Vauxhall's UK factories, which employ 4,500 workers.
With GM's Opel and Vauxhall operations, PSA would become Europe's second largest carmaker, behind Volkswagen but overtaking Renault-Nissan.
Live: Reaction to Peugeot deal
In a statement, Carlos Tavares, chairman of PSA's managing board, said: "We are confident that the Opel/Vauxhall turnaround will significantly accelerate with our support, while respecting the commitments made by GM to the Opel/Vauxhall employees."
GM chairman and chief executive Mary T. Barra said she believed the deal would put Opel and Vauxhall "in an even stronger position for the long term".
The deal includes PSA buying GM Europe's financial operations for 900m euros in a joint deal with bank BNP Paribas.
PSA said it expected to make savings of £1.47bn per year by 2026.
Since the two firms announced they were in talks on 14 February, they have met ministers and union officials to address concerns about potential job cuts.
'A big mess'
Ahead of the announcement, the Unite union said that Vauxhall staff at plants at Luton and Ellesmere Port had endured a "nerve-wracking" few weeks.
Len McCluskey, general secretary of Unite, said while initial discussions with the PSA Group had been "relatively positive" the union's priority was to "ensure a long-term future for our plants and the tens of thousands of workers depending on them".
"We will also be urging the government to stay at the table, just as the French and German governments do, to provide full support for our auto workers through this deeply unsettling time."
Thousands more workers are involved in Vauxhall's showrooms and supply chain.
Prof Peter Wells of Cardiff Business School said jobs were likely to go since PSA already had overcapacity across its European plants.
"PSA's Carlos Tavares has targeted savings of $2bn per annum so something has got to give," he said.
"PSA will be inheriting quite a big mess, and out of that mess they are going to have to make something that is viable going forward."
Categorised in:
This post was written by FSB News