April 1, 2016 12:01 am
No joke on 1 April: It's national 'price hike' day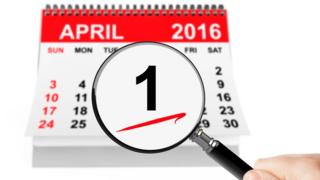 While more than a million workers will be celebrating a pay rise as a result of the National Living Wage, 1 April will see a raft of price rises too.
Council tax payers in England will see their bills rise by an average of 3.1%, or £46 a year, while residents of Wales will pay an extra £41.
Water bills, prescription charges, and the cost of air travel will also rise.
"It seems to have become national price hike day," said Hannah Maundrell, the editor in chief of Money.co.uk.
"The majority of the price hikes seem pretty small, many as low as 1%. However, all these small hikes add up and lead to fewer pounds in your pocket."
The latest figures show that CPI inflation is currently 0.3%.
Mobile Contracts
Apart from Council tax, here are some of the other increases:
Air Passenger Duty: Up by almost 3% on long-haul flights. APD on economy flights up from £71 to £73. The Scottish government plans to halve the tax by 2021.
Prescription Charges: Up by 20p to £8.40 in England and Wales. NHS Prescriptions are free in Scotland.
NHS dental charges: Cost of a check-up goes up by 5% to £19.70. Cost of a filling up by 5% to £53.90.
Mobile phone contracts: Three, O2 and EE are all increasing prices for some customers on monthly contracts.
Stamp Duty: Landlords and buyers of second homes will pay a 3% surcharge on Stamp Duty, or LBBT in Scotland.
National Living Wage
After years of encouraging local authorities to freeze their Council Tax, the Treasury has now allowed a small increase, primarily to pay for the costs of social care.
However Council Tax will remain frozen in Scotland for another year.
Councils say that much of the increase will be spent on paying a higher level of wages, as a result of the introduction of the National Living Wage (NLW).
From 1 April, 1.3m workers over the age of 25 will be entitled to a minimum wage of £7.20 an hour, instead of £6.70 previously.
"After years of striving to keep council tax as low as possible or frozen, town halls find themselves having no choice but to ask residents to pay more council tax over the next few years to offset some of the spiralling costs of social care in 2016/17," said a spokesperson for the Local Government Association (LGA).
Councils also warned that the quality and quantity of services on offer could drop, as a result of further funding reductions next year.
They said the National Living Wage would bring "a significant further cost pressure from April".
Categorised in:
This post was written by FSB News