April 4, 2016 12:39 am
New flood insurance scheme to cut bills by hundreds of pounds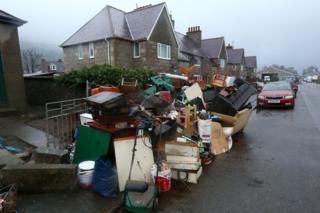 Homeowners living in high flood-risk areas of the UK should now be able to save hundreds of pounds on their insurance premiums.
A new scheme called Flood Re has been designed to cut bills for those whose homes are at risk of flooding.
Up to now, thousands of householders have been paying large additional premiums to make sure their homes and possessions are protected.
About 350,000 homes could benefit – although thousands will be excluded.
As many as 15,000 homeowners made insurance claims for storm and flood damage over last winter.
Exclusions
In theory, insurance companies should now be able to lower premiums, as they can pass on the flood risk element of policies to the reinsurer Flood Re.
Householders who are eligible will also see their policy excesses – the amount they have to pay towards a claim – capped at £250. Previously, some people had to pay several thousand pounds towards repairs.
However, houses built since 2009 will not be covered by the scheme. This was done to discourage developers from building on land at risk of flooding.
Businesses are also excluded, as are landlords who take out insurance policies on homes they do not occupy themselves.
The scheme has also been criticised by a group of MPs, who say it does not offer good value for money.
Biggest flood risk areas in the UK
Region
Homes at risk
% of UK total
South East
52,065
15%
Eastern England
41,648
12%
Yorkshire and Humber
39,239
11%
London
38,438
11%
North West
38,247
11%
South West
31,677
9%
Scotland
27,748
8%
East Midlands
26,097
7%
source: Flood Re
'No rush' to switch
Initially 17 insurance companies are taking part in the scheme. If necessary, they can pass on any flood risk to Flood Re, which has been funded by the insurance industry as a whole.
Its costs will be covered by an industry levy of £180m a year.
As a result, Brendan McCafferty, chief executive of Flood Re, said consumers should benefit from greater choice and more competition.
"This should make flood cover more affordable and accessible to those in high flood risk areas over time," he said.
However, consumers will not need to contact Flood Re directly, as this will be done by existing insurance companies.
Those who have already taken out household policies are being advised by the Association of British Insurers (ABI) to talk to their providers.
If they want to switch to a cheaper policy, they should ask if it is possible to avoid cancellation charges.
But the ABI also said there was no rush to change policies immediately.
One of the firms taking part, Axa Insurance, said it would embark upon a proactive contact campaign "to ensure that the impact of Flood Re for the most exposed is felt as soon as possible".
Categorised in:
This post was written by FSB News