April 1, 2016 7:57 am
Co-operative Bank's annual losses more than double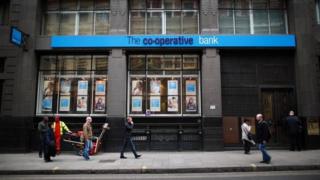 Co-operative Bank's annual pre-tax losses have more than doubled to £610m, up from £264m in 2014.
Conduct and legal risk charges increased to £193m due to higher provisions against the mis-selling of payment protection insurance.
The bank almost collapsed in 2013, after bad property loans contributed to a £1.5bn hole in its finances.
Since then the bank has taken action to shore-up its finances and says it is much "stronger" than a year ago.
Niall Booker, chief executive officer, said: "In 2015 we have been successful in improving capital resilience, reducing costs and strengthening the performance of the Core Bank and the expected widening of our financial loss compared with 2014, due to legacy issues we have known about and highlighted for some time, should not distract from the considerable progress made in turning the Bank around."
Categorised in:
This post was written by FSB News