December 6, 2016 11:10 am
Lego appoints British boss in brand expansion
6 December 2016

From the section

Business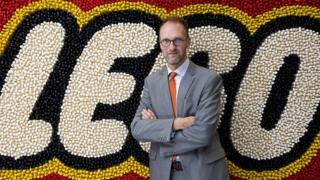 Lego, the Danish toy company, plans to do more to build its brand globally and is appointing a new, British boss.
Chief operations officer Bali Padda will take over in 2017 as the first non-Dane to run the business as it restructures its management.
Jorgen Vig Knudstorp, who has led the family-owned company through a turnaround over the past decade, will chair the new Lego Brand Group.
The new structure aims to exploit "untapped potential" in the Lego brand.
The company said the new entity would "protect and develop" the Lego brand, including its educational and charitable activities, and oversee its Legoland attractions.
Lego is still owned by the family of Kirk Kristiansen, who founded the business in 1932.
After reaching a financial low-point in 2004, the company has enjoyed strong growth under Mr Knudstorp's leadership and seen off the challenge of digital entertainment that has hit some competitiors.
"With our recent growth and globalisation come new and exciting opportunities for the brand, and we establish the Lego Brand Group to look into these new opportunities," said Thomas Kirk Kristiansen. The fourth generation member of the family that owns Lego will become deputy chair of the Lego Brand Group.
The company has reported annual double-digit growth over the past decade.
Mr Padda has been chief operating officer for the past 14 years and has overseen a significant expansion in production and staff numbers.
Kirk Kristiansen said: "Bali possesses the right Lego mindset. He has a deep knowledge of our entire company, a very clear sense of what we need to do to take the company to the next level, and he is a true ambassador for … the Lego brand."
Categorised in:
This post was written by FSB News