April 5, 2016 2:04 pm
Panama Papers: Labour urges probe into Britons including PM's family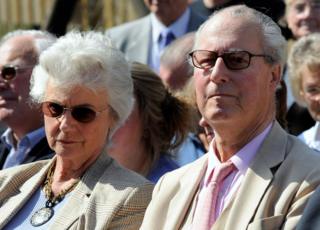 Labour leader Jeremy Corbyn is calling for an independent inquiry into all Britons linked to tax haven allegations – including David Cameron's family.
Downing Street has said Mr Cameron has no shares in an offshore investment fund set up by his late father.
But it is not known if his family has retained an interest in the fund.
Mr Corbyn said the PM must "set the record straight". He also urged him to consider "direct rule" of overseas territories that flout UK tax laws.
The BBC's Norman Smith said Downing Street was "incensed" at Labour's decision to personalise the tax haven issue, particularly as Mr Cameron feels he has a "good story" to tell on tackling abuses.
In the past three years, the PM has led calls for action on global tax avoidance and transparency over ownership structures.
'Private matter'
The row was prompted by a huge data leak from Panama-based Mossack Fonseca showing the law firm registered more than 100,000 secret firms to the British Virgin Islands, a British overseas territory.
The documents show Mr Cameron's father Ian was a director of a firm which held its meetings in the Bahamas to shield it from UK tax.
Downing Street initially said it was "a private matter" and "an old story" before confirming that Mr Cameron did not hold shares in the fund.
Labour seized on the issue, as it launched its campaign for May's local elections in England, with Mr Corbyn saying he would publish his tax returns and calling on the prime minister to do the same.
He said: "I think the prime minister, in his own interest, should tell us exactly what's been going on.
"It's a private matter in so far as it's a privately held interest, but it's not a private matter if tax has not been paid.
"So an investigation must take place, an independent investigation."
'Robust action'
Asked whether the PM should resign if he is found to have benefited, Mr Corbyn said: "Let's take one thing at a time. We need openness, we need an examination, we need a decision after that."
He said an inquiry was needed by HM Revenue and Customs to quickly get to the bottom of how much private wealth was being "siphoned off" overseas, claiming the British taxpayer is being short-changed by the super-wealthy being allowed to "dodge taxes and flout the rules".
In response, No 10 said the government "has raised billions of pounds by taking robust action to crack down on tax avoidance in Britain and the prime minister has spearheaded international action to improve tax transparency around the globe".
The leaked documents reveal Ian Cameron was a client of Panamanian law firm Mossack Fonseca and used one of the most secretive – albeit lawful – tools of the offshore trade after he helped set up a fund for investors.
When the late businessman wanted to attend a board meeting of Blairmore Holdings, he had to fly to either the Bahamas or Switzerland.
Blairmore, which appears to have been named after the Cameron family's ancestral estate in Aberdeenshire, held its meetings offshore to ensure the investment fund wouldn't have to pay any UK income tax or corporation tax on its profits.
If the meetings had been held in London, then it may have been considered resident in the UK and taxed as a UK company.
'Questions to answer'
The leaked documents show that Ian Cameron, who died in 2010, was one of five UK directors of Blairmore Holdings who flew to board meetings overseas. There were also three directors in Switzerland and three in the Bahamas.
The leaked documents also reveal how the company used bearer shares, ensuring the true owners – the wealthy investors in Blairmore Holdings – were kept hidden from view.
Blairmore stopped using bearer shares in 2006. It was David Cameron's government that banned bearer shares in the UK in 2015.
Downing Street has insisted the UK has been "ahead of the pack" in pushing for tax havens to become more transparent, helping secure 40 changes to international tax law to close loopholes.
But the Guardian has reported that a number of Conservative donors, supporters and former MPs are linked to tax havens around the world. A number of them have firmly denied any impropriety.
Eleven million leaked documents showed how Mossack Fonseca clients were able to launder money, dodge sanctions and avoid tax – the law firm says it has operated beyond reproach for 40 years.
There are links to 12 current or former heads of state in the data, including dictators accused of looting their own countries.
---
Reaction around the world includes:
Crowds gathering outside Iceland's parliament demanding Prime Minister Sigmundur Gunnlaugsson step down over allegations he concealed investments in an offshore company
Mr Gunnlaugsson has asked Iceland's president to dissolve parliament
Close relatives of seven current or former Chinese leaders have been found to have links to offshore firms
The Australian Tax Office (ATO) is investigating more than 800 individual taxpayers, all residents of Australia
The US Department of Justice is reviewing the leaked documents to look for evidence of corruption that could be prosecuted in the US, the Wall Street Journal reports
France and Spain are investigating money laundering exposed by the leaks among their resident taxpayers
Panama President Juan Carlos Varela has said his government has "zero tolerance" for illicit financial activities and would co-operate vigorously with any judicial investigation in any country
Categorised in:
This post was written by FSB News