December 7, 2016 9:29 am
Italy bank shares rise on bailout hopes
7 December 2016

From the section

Business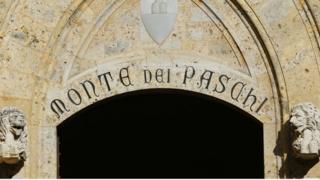 Shares in Italian banks have continued their recovery after falling sharply on Monday in response to Prime Minister Matteo Renzi's referendum defeat.
Shares in Monte dei Paschi, one of Italy's most troubled banks, rose nearly 9% on new hopes of a rescue.
Reports suggested the government was poised to step in and prop up the bank and other ailing lenders.
However, an Italian Treasury spokesman denied that the government was seeking a bailout loan from the EU.
La Stampa newspaper had reported that Rome would be asking for €15bn (£12.7bn; $16.1bn) from the European Stability Mechanism (ESM) to help the Italian banking system.
At the same time, Reuters quoted unnamed sources as saying that the government would take a €2bn controlling stake in Monte dei Paschi after the prospect of a private recapitalisation receded.
Many Italian banks are struggling with a burden of bad debt and are in need of refinancing.
Mr Renzi resigned as prime minister on Monday, a day after voters rejected a package of constitutional reforms on which he had staked his political future.
The outcome has given rise to fears of a prolonged period of uncertainty and instability in the country, both politically and economically.
Other banking shares also rose on the Milan stock market, with UniCredit up 3.4%.
Categorised in:
This post was written by FSB News