June 19, 2016 8:58 am
India central bank boss to step down in surprise move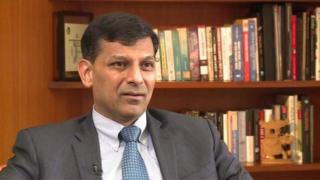 Raghuram Rajan, the governor of India's central bank, is to step down in early September at the end of his term.
He had been expected to stay on in the role but will return to academia.
Mr Rajan had been "open" to continuing after his initial three-year term, but has made his move after "due reflection and consultation with the government".
The former IMF economist, who was one of the few to predict the 2008 financial crisis, has been praised for his handling of the Indian economy.
It is now the fastest growing major economy in the world.
However he has faced pressure from a faction within Prime Minister Narendra Modi's ruling party for keeping interest rates high. There has also been criticism that he had begun to stray into politics.
'Platform of stability'
In a letter to Reserve Bank of India (RBI) workers, Mr Rajan remarked that two of his major policy ideas – the creation of a monetary policy committee to set interest rates and reform of the heavily indebted banking sector – had not been completed.
He also made passing reference to the referendum in the UK next week on EU membership.
"Colleagues, we have worked with the government over the last three years to create a platform of macroeconomic and institutional stability," he said.
"I am sure the work we have done will enable us to ride out imminent sources of market volatility like the threat of Brexit."
His term of office ends on 4 September.
It will be the first time in 24 years that an RBI chief has departed after a single three-year term.
Categorised in:
This post was written by FSB News