June 14, 2016 10:16 am
German 10-year bond yield turns negative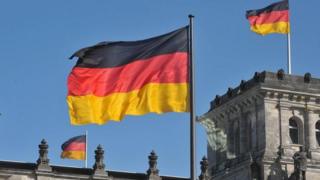 Yields on German 10-year government bonds have turned negative for the first time.
The move is proof of investors' nervousness about the slowing global economy and the potential for turbulence if the UK leaves the EU.
German sovereign bonds – IOUs issued by the Bundesbank – are regarded as some of the safest investments in the world.
The negative yield shows investors are prepared to accept a guaranteed loss just to keep their money safe.
Like all government bonds, they come with a guaranteed interest rate payment, with the principal being given back at the end of their term – in this case 10 years.
Such has been the demand for these bonds, however, that the purchase price now wipes out the expected interest payments.
Analysts said there was widespread uncertainty in markets over the extent of China's slowdown, and a loss of faith in central banks' ability to return economies to growth.
Since the 2008 financial crisis, central banks have slashed interest rates and poured billions into domestic businesses in an attempt to bring them back to life.
Investors are betting sterling will fall – regardless of the outcome of the 23 June vote – with millions placed in the derivatives market, where traders can speculate in the future price of currencies.
But Luke Ellis, president of Man Group, the world's largest listed hedge fund, told the BBC's Today programme that most of the activity was by companies looking to protect themselves against a fall in the pound because of their exposure to the currency.
Few traders were prepared to call the outcome of the referendum, he said.
Since the start of the year sterling is slightly down against the US dollar, falling from $1.47 to $1.42.
Categorised in:
This post was written by FSB News