December 9, 2016 7:19 am
Food industry warns of higher prices without EU workers
9 December 2016

From the section

Business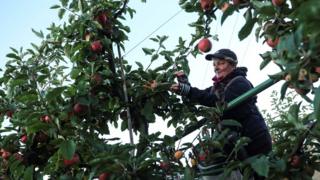 The UK faces higher food prices without continued access to EU workers, 30 food and drink associations have warned.
In a letter published in the Guardian, they argue that EU workers play an important role in the supply chain and some are already starting to leave.
It called on the government to offer "unambiguous reassurance" about their right to remain.
Nearly four million people are employed in everything from harvesting to production to selling food and drink.
In food manufacturing just under a third of workers are from the EU.
"Workers from the EU, some of whom are already leaving the UK, play a significant role in delivering affordable and high-quality food and drink," the letter said.
"The government should offer unambiguous reassurance to EU workers throughout our supply chain about their right to remain. For the longer term, it is important to recognise that these workers are highly flexible and provide an essential reservoir of skilled, semi-skilled and unskilled labour."
'Less choice'
The trade associations also warn that the country's food security is at risk and that many workers are already leaving in the wake of the Brexit vote and the fall in the value of the pound.
They call for the importance of the industry to be recognised to the country's "economic and physical wellbeing" and argue that it should receive equal treatment to the financial or automotive sectors.
"All options should be explored, including a workable points-based system for shortage occupations, sector-based and seasonal/guest worker schemes and effective transitionary arrangements," they say.
"If they are not, the UK will face less food choice and higher food prices."
Signatories include the Food and Drink Federation, the Association of Cereal Food Manufacturers and the British Beer and Pubs Association.
Food and drink exports are worth £18bn, with Scotch Whisky, chocolate, beer and salmon the biggest exports by value
Categorised in:
This post was written by FSB News