December 4, 2016 10:41 pm
Euro slides after Italy exit polls
4 December 2016

From the section

Business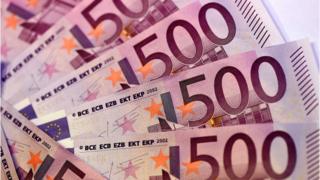 The euro fell against the dollar after exit polls indicated that Italian Prime Minister Matteo Renzi suffered a heavy defeat in Sunday's referendum.
In trading late on Sunday, the euro was down 1.2% from Friday's close, at $1.0547.
The single currency had already registered sharp losses since early November when it was trading at $1.12.
The referendum was formally over plans to streamline parliament, but for many was a chance to register discontent.
Mr Renzi has said he will resign if he loses the vote.
The Italian economy is already in a fragile state and a period of political uncertainty would be likely to do further damage.
In particular, Italy's banking industry is seen as vulnerable to a loss of confidence.
Many banks are struggling with a burden of bad debt and are in need of refinancing.
That finance would be harder to come by amid a political crisis.
The size of Italy's government debt is also a concern. Government borrowing, depending on which figures you look at, is one of the largest in the eurozone.
Categorised in:
This post was written by FSB News