June 19, 2016 1:28 pm
EU referendum: Campaigns resume with new warning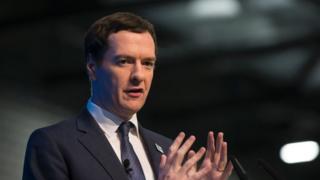 Leaving the EU would be a "one-way door to a much more uncertain world", Chancellor George Osborne has said.
He said he thought the hit to the economy if Britain votes to leave on Thursday might be worse than forecast.
As campaigning resumes after a break following the killing of MP Jo Cox, Mr Osborne told ITV: "Brexit may be for the very rich but it is not for the working people of this country".
Vote Leave said the UK could deal with "whatever the world throws at us".
'Terrible tragedy'
With just four days to go before Britain votes on whether to remain in the EU, the opinion polls suggest the referendum will be close, with many voters still undecided.
UKIP leader Nigel Farage said the Leave campaign may still be on course for victory but that the death of Mrs Cox, who was killed in her West Yorkshire constituency on Thursday, had affected the campaign.
"We did have momentum until this terrible tragedy," he told Robert Peston, adding that "when you take on the establishment you need to have momentum".
Mr Osborne and David Cameron have both sought to get voters to focus on the economic risks of leaving.
Mr Cameron, who is due to appear in a BBC Question Time special on BBC One at 18:45 BST, warned voters in a Sunday Telegraph article that there would be "no turning back" if Britain votes to leave on Thursday and it could lead to "debilitating" economic uncertainty for up to a decade.
The PM said the economy "hangs in the balance", with trade and investment set to suffer in the event of a vote for Leave and a "probable recession" that would leave Britain "permanently poorer".
'No turning back'
He said voters faced a choice between "Nigel Farage's vision – one which takes Britain backwards; divides rather than unites" and a "tolerant, liberal Britain; a country that doesn't blame its problems on other groups of people; one that doesn't pine for the past, but looks to the future with hope, optimism and confidence".
George Osborne echoed this message in his Peston on Sunday interview on ITV, saying: "There is no turning back. It is a one-way door to a much more uncertain world, where people's jobs and livelihoods are at risk."
He claimed working people would be hit hardest, adding: "British people can't take their money out of Britain. Brexit may be for the very rich but it is not for the working people of this country who will be paying the price for many years to come."
Categorised in:
This post was written by FSB News