June 12, 2016 3:42 am
EU referendum: Cameron issues Brexit pensions warning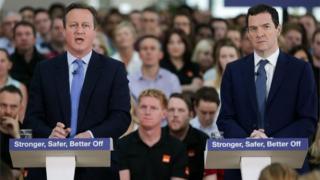 David Cameron and George Osborne say they might not be able to protect spending on pensions, the NHS and defence in the long term if the UK votes to leave the EU.
The prime minister said the strain on public finances caused by Brexit would threaten the "triple lock" which guarantees the state pension will rise.
"It wouldn't actually be affordable," Mr Cameron warned.
Vote Leave said it was "a frantic attempt to rescue a failing campaign".
In a series of newspaper articles Mr Cameron said ring-fencing future funding for the NHS could be at risk, while the chancellor said the armed forces could see their budgets slashed by £1bn – £1.5bn a year as the wider economy shrank.
Categorised in:
This post was written by FSB News