December 8, 2016 1:11 pm
ECB extends bond-buying scheme until December 2017
8 December 2016

From the section

Business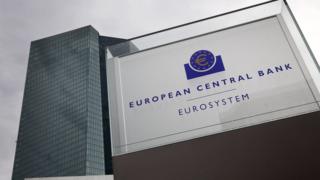 The European Central Bank has said it will extend its bond-buying programme until at least December 2017, as it kept interest rates unchanged at zero.
The €80bn-a-month quantitative easing scheme had been due to end in March, although the bank had been expected to extend it for at least six months.
However, the ECB will cut bond purchases to €60bn a month from April.
The euro rose against the dollar and the yen in response, but remained flat against sterling.
The bank said that if the economic outlook "becomes less favourable", it would expand the size or length of its bond-buying programme.
Carsten Brzeski at ING-DiBa said: "Even without calling this tapering, the ECB just announced tapering."
Kathleen Brooks of City Index said the move could be "the biggest central bank shock of the year", given that the Federal Reserve's expected decision to raise rates next week was fully priced in by the market.
"The extension to QE is much longer than we expected, but the tapering announcement is almost hawkish, a mere three days after the Italians voted No in its referendum," she said.
The ECB also confirmed it would make some changes to the rules governing its bond purchases that will be outlined at a press conference at 13:30 GMT.
Alterations are needed to ensure the ECB does not run out of German bonds to buy – the country where its purchasing has been focused.
Calculations by Cantor Fitzgerald this week showed that without changes, the ECB would run out of Irish bonds to buy in January.
The bank also left at zero its refinancing rate, at which it lends money to commercial banks, and minus 0.4 percent on deposits it takes from banks. That negative rate aims to encourage banks to lend money rather than hoard it at the ECB.
The decision to extend the QE scheme helped shares in Italian banks continue to rise, with the sector on track for its best week since at least 2009.
Categorised in:
This post was written by FSB News