June 13, 2016 8:23 pm
E3: Microsoft unveils Xbox One S and Project Scorpio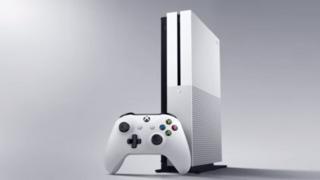 Microsoft has revealed a slimmer version of its Xbox One console, the Xbox One S, which will launch in August.
The firm also announced another new console, Project Scorpio, which will offer virtual reality and 4K gaming.
It will be released by Christmas 2017 but no details of a price were given.
The Xbox One S, however, will cost $299 (£210) and include support for High Dynamic Range (HDR) gaming, with extra levels of brightness and more colour.
Pictures of the device, which will also include 4K DVD and Blu-Ray playback, were leaked ahead of E3.
One analyst said many gamers might not be ready to buy a new console so soon after the Xbox One's release.
It's an unusual move to release a new version of a console "mid-cycle", or before a completely refreshed device is launched, according to games industry analyst Ed Barton, who spoke to the BBC ahead of Microsoft's E3 event.
"We are in slightly uncharted waters," he said. "There's a risk of the market already being saturated."
However, Sony will also launch an upgraded version of its PS4 console in early 2017.
Piers Harding-Rolls at analysts IHS pointed out the earlier release date for the Xbox One S could give it the edge in terms of sales.
Play Anywhere
Microsoft also confirmed cross-platform access, Xbox Play Anywhere, meaning that gamers who buy a title for one will be able to play it on Xbox or Windows 10 PCs at no added cost.
Cross-play will also allow people to play online with others via systems of their choice.
This was demonstrated on stage by Lydia Winters from Mojang and Saxs Persson from Microsoft Studios who teamed up in Minecraft via an iPad and Microsoft Surface tablet.
Among other new features for gamers were updates to Xbox Live, including Clubs, a hangout area for gamers, and Looking for Group, which will help players find others who want to collaborate with them online.
"It's the simplest way to find other gamers with the same goal in mind," explained Mike Ybarra from Microsoft.
Mr Ybarra also announced Arena, where professional competitive gamers can take part in tournaments.
Plus, Xbox fans will be able to order customisable controllers – selecting from eight million colour variations for example – via the Xbox Design Lab.
The controllers will cost $79.99 with additional laser engraving costing $9.99. The web portal through which people can design their own controllers is due to go live today but the devices will not ship until September.
A large number of big games were also previewed or demoed at the event.
Among the headline games were racer Forza Horizon 3, shooter Gears of War 4, WWI action title Battlefield 1, role-playing sequel Final Fantasy XV and sci-fi adventure game Recore.
There was also footage from State of Decay 2, a sequel to the original third-person zombie survival game which had been rumoured prior to this year's E3.
And classic beat 'em up Tekken will return with a new instalment, Tekken 7, next year.
More to follow…
Categorised in:
This post was written by FSB News