March 5, 2017 4:57 pm
Deutsche Bank to raise billions with rights issue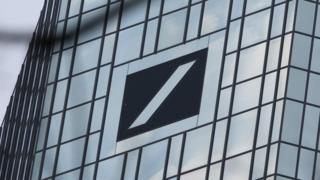 Deutsche Bank plans to raise about 8bn euros (£6.9bn, $8.5bn) by issuing new shares.
The share sale by the troubled German bank is part of a wider shake-up.
The bank will partially float its asset management business and retain Postbank – the retail banking business it had been expected to sell.
Deutsche will be reorganised around three divisions: private banking and wealth management; asset management; and corporate and investment banking.
Germany's biggest bank is trying to reshape itself after grappling with huge losses and a 15bn euro legal bill imposed by regulators since 2012.
In December, Deutsche Bank said it had agreed a $7.2bn (£5.9bn) payment to US authorities to settle an investigation into mortgage-backed securities.
Promotions
The sale of residential mortgage-backed securities played a significant role in triggering the 2008 financial crisis.
The rights issue will be launched on 20 March in a bid to repair its balance sheet.
Deutsche will also promote chief finance officer Marcus Schenck and retail banking boss Christian Sewing to become co-deputy chief executives under chief executive John Cryan.
Mr Schenck will also become co-head of the investment bank alongside Garth Ritchie, who runs the bank's bond and equities trading activities.
Jeffrey Urwin, head of corporate and investment banking, will step down, and a new chief finance officer will be sought.
Deutsche aims to cut costs from 24.1bn euros to 22bn euros by 2018, as well as resume paying a "competitive dividend" to shareholders.
Categorised in:
This post was written by FSB News