June 25, 2016 10:20 am
City firms may lose 'prized' EU access, says French banker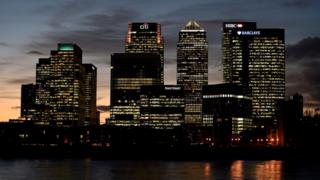 London's financial institutions risk losing their prized access to the EU if the UK leaves the single market, said France's top central banker.
Francois Villeroy de Galhau said London's banks would lose their "financial passport", which allows them to trade freely in the EU.
Earlier, the head of the Eurogroup of finance ministers Jeroen Dijsselbloem said banks would move outside the UK.
Rival financial centres like Amsterdam and Frankfurt would benefit, he said.
Many London-based banks currently serve customers throughout the EU unhindered under rules known as "passporting".
However, that would be under threat if the UK chooses to leave the single market as part of its withdrawal from the EU.
Mr Villeroy de Galhau, who is also a member of the European Central Bank's governing body, said negotiations should start quickly on the UK's trading relationship with the EU.
"There is a precedent, it is the Norwegian model of European Economic Area, that would allow Britain to keep access to the single market but by committing to implement all EU rules," he said.
"It would be a bit paradoxical to leave the EU and apply all EU rules, but that is one solution if Britain wants to keep access to the single market."
'Price'
US bank Morgan Stanley said on Friday it would "adapt accordingly" to a UK exit from the EU, after reports it could move up to 2,000 of its London-based staff to Dublin or Frankfurt.
Mr Dijsselbloem, the Dutch finance minister, said: "A few years ago, London took out adverts in the Asian edition of the Financial Times saying it was the place to come if you wanted to do business in the EU.
"Now they can't place that advert, and the Asians will go to Amsterdam or Frankfurt instead."
Alan Greenspan, a former chairman of the US Federal Reserve, said the biggest impact from the UK's Leave vote would be on "issues of finance".
"London is a key indispensible financial centre, and there's nothing like it including New York. What concerns me is that the focus is going to shift to other areas of economic union; Frankfurt, Paris, or what have you," Mr Greenspan said in an interview with the BBC.
TheCityUK, a group which represents most of the City of London's big employers, called on the government to secure "continuing access to the single market".
Categorised in:
This post was written by FSB News