June 26, 2016 10:19 am
China warns Brexit will 'cast shadow' over global economy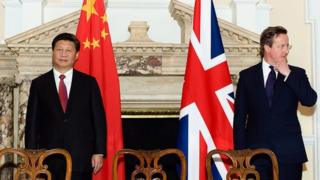 China finance experts have warned that Britain's decision to leave the European Union will "cast a shadow over the global economy".
Finance minister Lou Jiwei said the "repercussions and fallout" will emerge over the next five to 10 years.
Huang Yiping, a member of China's central bank monetary policy committee, said the Brexit could mark a "reversal of globalisation".
If so, he said, it would be "very bad" for both the world and China.
Last year, China was responsible for $3.3 billion worth of foreign direct investment in Britain, according to law firm Baker & McKenzie. Between 2005 and 2015, it has invested nearly $30 billion in Britain.
David Cameron announced £40 billion worth of deals between Britain and China following a visit to the UK by President Xi Jinping in October last year.
While Mr Lou said the result "will cast a shadow over the global economy", he added that it was difficult to predict the outcome and said the reaction from global stock markets, which fell sharply on Friday, may have been overdone.
"The knee-jerk reaction from the market is probably a bit excessive and needs to calm down and take an objective view," he said.
Following the result of the vote, the pound plunged 10% against the dollar to a 31-year low before trimming losses to end the day around 7.5% down.
Sterling also fell 11.4% against the Japanese yen which is seen by investors as a safe haven for investors in times of crisis.
Japan hinted that it may intervene to stem the yen's strength.
Tomomi Inada, chairwoman of the Policy Research Council of the ruling Liberal Democratic Party, said: "Speculative, violent moves (in the forex market) have extremely negative effects. If necessary, the government should not hesitate to respond, including currency intervention."
On Friday, the Swiss National Bank acted to weaken the Swiss franc which rose 2.1% against the dollar as investors rushed to buy the currency.
In the Middle East, shares on the Saudi Arabia stock exchange fell 3.7% on Sunday.
Categorised in:
This post was written by FSB News