March 31, 2016 12:49 am
Tata Steel: David Cameron to chair crisis meeting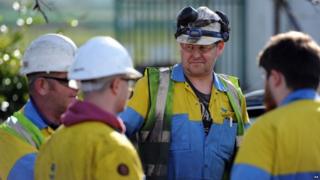 Prime Minister David Cameron is to host crisis talks on the UK steel industry amid mounting pressure on ministers to guarantee the future of the Port Talbot steelworks and its 5,500 staff.
He will meet ministers in Downing Street to co-ordinate their response to Tata Steel's plan to sell the plant.
Ministers have downplayed talk of nationalising the works but said state help could be used to engineer a sale.
Labour has urged ministers to "get their act" together and step in now.
While stopping short of calling for Tata Steel's UK business – which directly employs 15,000 workers and supports thousands of others – to be taken into permanent public ownership, Labour leader Jeremy Corbyn has said the government must intervene to safeguard its future.
A Labour petition calling for Parliament to be recalled to discuss the situation has obtained more than 74,000 signatures but the government has ruled out the move.
The BBC's deputy political editor James Landale said the government had been "caught on the hop" by Tata Steel's decision to put the plant and the rest of its loss-making UK steel business, including plants in Rotherham, Corby and Shotton, up for sale.
Ministers say they are considering "all options" for the Port Talbot plant amid concerns that Tata Group, its Indian parent firm, will not let the search for a buyer drag on too long.
'Human cost'
Business Secretary Sajid Javid, who has cut short an official visit to Australia to return to the UK, said nationalisation is "not a long-term solution" to the challenges facing British steel production.
But he has insisted the government regards steel as a strategically important sector and recognises the "human cost" that any disruption to production in Port Talbot would cause.
It is understood the government is looking at offering loan guarantees to potential buyers and much tighter rules on procurement to ensure major British projects are obliged to buy British steel.
Mr Cameron, who returned to London on Wednesday following an Easter break in Spain, has spoken to Welsh First Minister Carwyn Jones to offer his support at an "extremely worrying time".
A government spokesman said Thursday's meeting – to be attended by ministers and senior officials from the Treasury, Department for Business, Cabinet Office and Welsh Office – would focus on providing a "sustainable long-term future" for the steel sector.
'Expendable'
On a visit to the Port Talbot steelworks on Wednesday, Mr Corbyn attacked Tata Group for regarding their workers as "expendable" and accused ministers of sending mixed messages about the possibility of a government rescue.
"Anna Soubry said yesterday she was considering public ownership, Sajid Javid apparently called from a plane to say he wasn't.
"The prime minister has said he wasn't going to recall Parliament and they are now having an emergency meeting. I wish they would get their act together, recognise the importance of the industry and recognise the hurt that communities are feeling at the present time and recognise their responsibility to intervene to ensure we have a steel industry in Britain."
Labour has said the Port Talbot plant, which was privatised in the 1980s as part of the sale of British Steel, should be temporarily re-nationalised if no buyer comes forward and it faces closure.
"Public intervention is not a bad thing," Mr Corbyn added. "Public intervention is actually often a good thing to protect a balanced economy and a balanced manufacturing base."
Defence repercussions
Labour MP Stephen Kinnock has called for an immediate injection of government money to keep the plant – which is in his Aberavon constituency – going while its future lies in the balance.
A number of Eurosceptic Conservative MPs have said the government should not rule out subsidising the industry, if necessary ignoring EU rules restricting so-called state aid.
And former business secretary Vince Cable told the BBC's Newsnight that state ownership would be justified in "very limited circumstances" to prevent the "complete collapse" of British steelmaking while warning that "in the best case scenario there will be lots of redundancies".
There are also warnings that the end of steel production in Port Talbot would severely undermine Britain's defence capability and its status as a leading military power.
Lord West, a former First Sea Lord, has argued that all countries that are members of the United Nations Security Council have major steel plants to support their defence industry.
"I cannot think of another major military power that doesn't have its own indigenous steel production capabilities," he told the BBC.
"Certainly none of the members of the UN Security Council have jettisoned that capability and I find it extraordinary to think that we as a nation would do that."
---
Do you work at the Port Talbot steel plant? How will the plans to sell it affect you and your family? Let us know about your experiences. Email haveyoursay@bbc.co.uk with your stories.
Please include a contact number if you are willing to speak to a BBC journalist. You can also contact us in the following ways:
Or use the form below
If you are happy to be contacted by a BBC journalist please leave a telephone number that we can
contact you on. In some cases a selection of your comments will be published, displaying your name as
you provide it and location, unless you state otherwise. Your contact details will never be published.
When sending us pictures, video or eyewitness accounts at no time should you endanger yourself or others,
take any unnecessary risks or infringe any laws. Please ensure you have read the terms and conditions.
Categorised in:
This post was written by FSB News