March 5, 2017 2:20 am
Budget 2017: No 'spending sprees', Hammond warns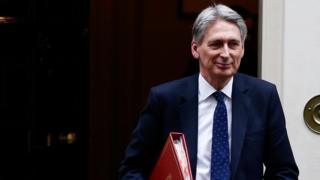 There will be no "spending sprees" in Wednesday's Budget, Chancellor Philip Hammond has warned.
Writing in the Sunday Times, he said the economy had proven to be "robust" but there was still a need for fiscal discipline ahead of leaving the EU.
Mr Hammond said the country needed to "get back to living within our means" and reduce its borrowing.
The government has been under pressure to provide more money for the NHS and social care.
On Saturday tens of thousands of people marched in London to protest against "yet more austerity" in the health service.
But Mr Hammond criticised those who wanted higher borrowing as "confused" and "reckless".
Public sector net debt – not including public sector banks – was £1.68tn at the end of January 2017, equivalent to 85.3% of GDP, according to the Office for National Statistics.
It has increased by £91.7bn since January 2016, the ONS said.
'£500m for vocational education'
Dull Budget? Your finances will change anyway
Mr Hammond said the economy had "confounded expectations" and shown itself to be "remarkably resilient", but he warned this was no time for "complacency".
"As we begin our negotiations with the EU we are embarking on a new chapter in our history," he wrote.
"We need to maintain our commitment to fiscal discipline and to strengthen our economic position as we forge our vision of Britain's future in the world."
Mr Hammond last year abandoned the timetable of his predecessor, George Osborne, to eliminate the deficit by 2020, instead pledging to invest in homes and transport.
He said this approach – to bring income and spending back into balance between 2020 and 2025 – would leave flexibility over the next few years.
But Labour leader Jeremy Corbyn said the NHS was in "crisis" and called for the government to provide more funding.
Speaking to protesters in Parliament Square on Saturday, he said the "crisis" was caused by a "political choice" made by the government.
Categorised in:
This post was written by FSB News