December 1, 2016 6:07 am
British Gas to freeze standard energy tariff
1 December 2016

From the section

Business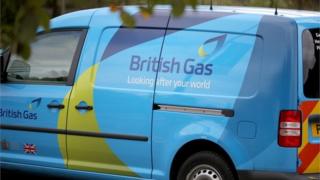 The UK's biggest energy supplier, British Gas, is freezing its standard tariffs for the coming winter.
The company says the move will provide peace of mind for more than six million customers.
The decision follows similar action from SSE, which recently confirmed that it would cap standard household energy tariffs until April 2017.
It comes amid mounting political pressure on the big suppliers to treat loyal customers more fairly.
The announcement was made in a series of adverts in national newspapers.
In a Christmas message, British Gas thanks its customers and adds that its standard tariff "will remain unchanged through the winter". It is understood that this means at least until the end of March 2017.
The company also says that it will ensure all its customers can access its best deals.
Loyal customers
The changes appear designed to counter criticism that big energy firms are taking advantage of customers that don't switch supplier.
Earlier this month the Business Secretary Greg Clark met industry representatives amid claims that energy suppliers were profiteering from loyal customers.
In a statement at the time he said that "customers who are loyal to their energy supplier should be treated well, not taken for a ride, and it's high time the big companies recognised this".
"I have made clear to the big firms that this can't go on, and they must treat customers properly or be made to do so."
In October, Prime Minister Theresa May also highlighted the high number of customers on standard contracts.
Speaking at the Conservative Party conference, she said: "It's just not right that two-thirds of energy customers are stuck on the most expensive tariffs".
In the Autumn Statement the chancellor said that the government would look carefully over the coming months at key markets including the retail energy market to ensure that it is working fairly for all customers.
Cheapest deals
A number of small energy suppliers have increased prices in recent weeks following rising wholesale prices.
But industry experts believe that the big six are unlikely to increase standard tariffs as they will have already bought gas and electricity for delivery in the coming months at lower prices.
Consumer groups have also highlighted the big difference in price between standard tariffs and some of the cheapest fixed price deals on the market.
British Gas says the differential between its Standard Tariff and its cheapest deal is now just £40 a year.
It has also launched a new product which will allow customers to fix their energy costs for the next three winters, until March 2019.
The deal is more expensive than its standard tariff but it comes as experts have warned that energy bills are likely to rise next year to reflect increased costs from transporting energy and government policies.
You can follow John Moylan on Twitter: @JohnMoylanBBC
Categorised in:
This post was written by FSB News