June 18, 2016 2:26 pm
Brexit would make Britain like Guernsey, says French minister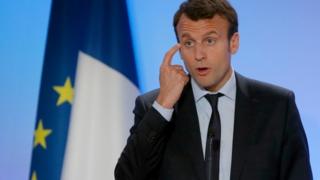 Leaving the European Union would make the UK as significant as Guernsey, France's economy minister has said.
Emmanuel Macron told Le Monde newspaper that Britain would become "a little country on the world scale [that] would isolate itself… at Europe's border".
He said the EU should send "a very firm message" about the consequences of a British vote to leave the bloc.
Pro-Brexit campaigners say Britain would prosper outside the EU and develop new trading relationships.
'Complicated' choice
Mr Macron's comments were published after remarks by Russian President Vladimir Putin, who suggested Prime Minister David Cameron, who favours staying in the EU, may have called the referendum to "blackmail" or "scare" Europe.
The Russian leader would not say whether he wanted Britain to leave the EU and said voters faced a "complicated" choice.
The UK votes next Thursday in an in-out referendum.
In other developments:
The IMF has said Brexit could mean the UK misses out on up to 5.6% of GDP growth by 2019
Field Marshal Lord Guthrie, a former chief of defence staff, has switched sides to Leave, saying he is worried by the prospect of "a European army"
The Times newspaper has said it supports Remain
The Remain and Leave groups have suspended their campaigning until Sunday following MP Jo Cox's death
Mr Macron told Le Monde: "Leaving the EU would mean the 'Guernseyfication' of the UK, which would then be a little country on the world scale. It would isolate itself and become a trading post and arbitration place at Europe's border."
And he said the European Council would have to deliver an ultimatum to the UK about its intentions and that France's President Hollande would be very clear.
Categorised in:
This post was written by FSB News