March 21, 2016 2:28 pm
Boss axed at controversy-hit Valeant Pharmaceuticals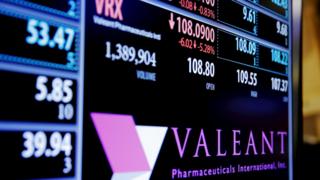 The boss of Valeant Pharmaceuticals is to step down, saying he "regrets the controversies" that have affected the drugs maker in recent months.
Michael Pearson, who will stay as chief executive until a replacement is found, said Valeant was still a "strong and resilient company".
Shares in Valeant jumped 14% in early trading after heavy losses last week, driven by fears of a default.
The company has also appointed activist investor William Ackman to its board.
Valeant chairman Robert Ingram said: "While the past few months have been difficult, Valeant has a collection of leading brands, valuable franchises and great people, and I am confident that the company will be able to rebuild its reputation and thrive under new leadership."
Valeant shares more than halved last week after it said that delays in filing its annual results could result in the company receiving a notice of default.
The Canadian firm is also facing an investigation by the Securities and Exchange Commission into its relationship with pharmacy Philidor, and an investigation by the US Congress into its drug pricing.
Mr Pearson recently returned to Valeant after taking a two-month leave of absence due to severe pneumonia.
Valeant makes a range of drugs for skin, eye, stomach and neurological conditions.
Categorised in:
This post was written by FSB News