June 16, 2016 2:44 am
Australia's Crown to spin off international businesses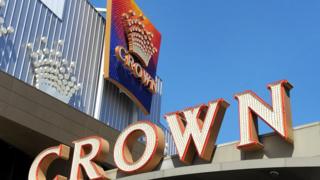 Australia's Crown Resorts has said it will demerge the majority of its international assets into a new company, removing itself from interests in China which have been hurt by a government crackdown on corruption.
The new company will takeover Crown's 27.4% interest in two Macau businesses.
Macau is the world's largest gaming centre and the only place in China where casinos are allowed.
But its gaming revenues have been hurt by a slowdown in Chinese spending.
China's campaign against corruption and luxury spending began in December 2012 and has seen officials and others from the mainland more wary of gaming and spending in Macau.
Crown Resorts said the demerger, which includes a move away from interests in Las Vegas among others, would benefit shareholders. It also announced a new dividend policy which would increase shareholders returns.
Crown's Australian operations meanwhile have benefited from an increasing number of Chinese visitors as well as a strong domestic gaming landscape.
"Following the proposed demerger, investors will have the opportunity to invest in Crown Resorts which will own and operate Australia's pre-eminent integrated resorts, with exciting developments such as Crown Sydney," said Crown's chairman Robert Rankin.
"Investors will also have the opportunity to invest in a separate company which will own a number of Crown Resorts' international investments and provide exposure to the major gaming markets of Macau, Las Vegas and the UK."
In December, Australian casino operator and billionaire James Packer announced his resignation as director of Crown Resorts Limited.
Mr Packer still owns a 53% stake in Crown and said at the time that he intended to direct his energies "to a number of key development projects in Sydney, Melbourne and Las Vegas as well as Crown's online platforms."
Crown Resorts was started in Melbourne and has since expanded to Sydney, Perth, London, Macau, Manila and Las Vegas.
The firm's Sydney listed shares were up more than 15% on Thursday after the demerger was announced.
Categorised in:
This post was written by FSB News